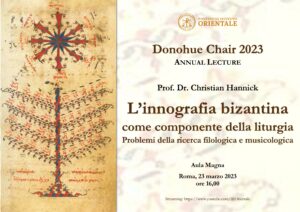 The Pontifical Oriental Institute is pleased to invite you to the annual Donohue Chair 2023 Lecture, which will be held on Thursday 23 March at 4.00 pm in the Institute's Aula Magna. The lecture, entitled "Byzantine Hymnography as a Component of the Liturgy: Problems of Philological and Musicological Research," will be given by Prof. Dr. Christian Hannick of the University of Würzburg (Germany).
The fruitful period of Byzantine hymnography lasted about a thousand years. Stylistic, compositional, and metrical evolutions occurred. However, one central criterion often remains ignored, namely musical performance in relation to changes in notation and in the structures of hymnographic collections using neumes, whose manuscript tradition begins no earlier than the tenth century. Based on such a relationship between text and music, a classification in three stages will be proposed.
Biography
Born in Neufchâteau (Belgium) on 3 September 1944, Christian Hannick studied Slavic, Byzantine, and Oriental philology at the universities of Bonn (Germany) and Vienna (Austria). In 1969 he was an assistant at the Institut für neutestamentliche Textforschung (INTF) at the University of Münster (Germany) and in 1979 he completed his Habilitation to teach at the University of Vienna from 1979 to 1981. From 1981 to 1993 he was full professor of Slavic philology at the University of Trier (Germany) and from 1993 to 2009 at the University of Würzburg (Germany). Currently he is professor emeritus at the University of Würzburg and member of the board of directors of the Ostkirchliches Institut at the University of Würzburg, which publishes the journal Ostkirchliche Studien. He is a corresponding member of the Austrian Academy of Sciences, the North Rhine-Westphalia Academy for Sciences and Arts (Düsseldorf), the Saxon Academy of Sciences and Humanities in Leipzig, and the Slovenian Academy of Sciences and Arts, ordinary member of the Accademia Ambrosiana, and foreign member of the Russian Academy of Sciences.