CTLG Presentation 14 of March 2023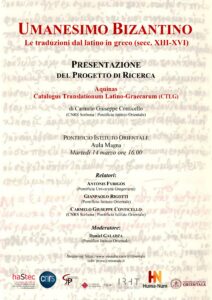 The Faculty of Eastern Christian Studies of the Pontifical Oriental Institute announces the presentation of the international research project Aquinas. Catalogus Translationum Latino-Graecarum (CTLG) (https://aquinas.huma-num.fr) directed by Carmelo Giuseppe Conticello (CNRS Sorbonne – Pontificio Istituto Orientale).
The first in its field of study, the CTLG presents a complete critical inventory of pagan and Christian works translated from Latin into Greek, from the Early Christian period to the Renaissance.
The initial part of the project covers the 13th to 16th centuries. Due to the extent of the translations of their work, Augustine of Hippo (354-430) and Thomas Aquinas (1225/6-1274) occupy a central place in the CTLG.
The project presentation will take place on 14 March 2023 at 4pm in the Aula Magna of the Pontifical Oriental Institute (Piazza Santa Maria Maggiore 7 – Rome). The event will be live-streamed on the Institute's.
YouTube Channel (https://www.youtube.com/@Orientale).